Women's Journal (10Nov08)
A Very Special Sarah
By: TINNA S. BONIFACIO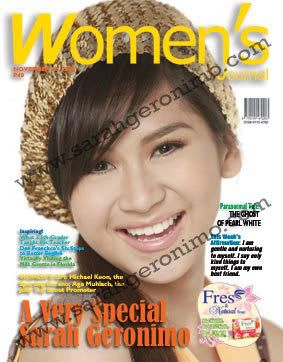 If she were asked to describe Sarah Geronimo to someone who didn't know her, she'd say: "A young lady who is very simple and sincere." To that, we feel compelled to add "special". There is no other word that fits her as well.
At the end of 2008, when she looks back, Sarah Geronimo will, no doubt, consider this year—to borrow the title of her last movie—a very special year.
It was the year that she marked so many milestones. Her launching movie,
A Very Special Love
, opposite
John Lloyd Cruz
, surprised all doubters and became a big box-office hit. She recorded an album that featured a duet with Howie D of the Backstreet Boys. And very soon, she will be ending the year with the biggest career blast of all: a major concert at the Araneta Coliseum.
It's a bit hard to imagine that just five years ago, Sarah was an unknown 14-year-old dreaming of one day staging her very own concert at the Big Dome. And now here she is, actually doing that. The November 8 concert, billed The Next One, is her third at the Araneta after The Other Side of Sarah in 2005 and Sarah in Motion in 2007. The Other Side of Sarah was particularly memorable not just because it drew a record crowd, but because every member of that crowd stayed till the end despite there being something wrong with the venue's air-conditioning system that night. Fans were literally sweating in the heat, but stayed glued to their seats even if it meant fanning themselves continuously for more than two hours.
Someone who was there to witness the spectacle recalls: "Pawis na pawis ang mga tao, pero walang umalis." If anything, that 2005 concert, her first major outing, was clear proof that the girl was destined for bigger things.
So this time around, the pressure to top her last concert is there—and it keeps getting more and more intense with each album, each concert, each TV show, practically each project, that she gets involved in. So how does Sarah, 20, deal with the pressure?
It's simple: she just does. There is no other choice. She does it because it's her job or, if you want to look at it another way, part of her job. "I know I have to overcome it eventually because it causes a lot of stress, anxiety, and even failure. Mabuti na lang po, nandiyan ang family ko para magbigay ng support."

HERE AND NOW
It's fun to be Sarah Geronimo, but that's it, it also means a lot of pressure. Sarah is also kept busy trying to fend off various rumors, gossip and intrigues, not all of which are true. Sometimes, these have her wishing she could go back to her quiet pre-showbiz life. These days, almost everything she does—or doesn't do—automatically sets the gossip mills on fire. Even something as innocent as her decision not to wear a gown at an event can sometimes get blown out of proportion.
That time, says Sarah, it wasn't true that her mother Divine cast aside the gown made for her by one designer in favor of one by Rajo Laurel.
Then there are the rumors linking her to this or that young singer or actor. In recent months, the names of Rayver Cruz, Richard Poon and Ronnie Liang have cropped up.
Ronnie was said to have openly admitted to some members of the entertainment press that he had a crush on Sarah, and was even prepared to build her a mansion with a swimming pool. When Sarah heard about the rumors, she actually laughed them off, although she did dare him to "make a move". When we brought up the rumors again during this interview, she had the same reaction. "Si Ronnie, I think he was just misquoted," she says.
And what of Richard Poon, who reportedly described Sarah as someone who possesses the characteristics of his ideal woman? Sarah flashes her typically shy smile and says, "Did Richard really say that? Di naman po siguro. I'm thankful if it's true, but I am far from perfect. Baka naman nagkamali lang kayo ng dinig o ng basa."
As for gossip linking her to Rayver, she has basically the same attitude—live and let live. She knows that rumors are part of show business, and for as long as she's in this industry, rumors are something she'll have to learn to live with. So as far as her love life is concerned, she'd rather let the guys do all the talking. If there is any confirmation or denial, it won't be coming from her. Right now, she is content to let her lovelife take the backseat. The less she talks about these issues, the better she feels.
Frankly, she could do without the intrigues. "Di ko naman po ide-deny na na-mi-miss ko yung buhay ko dati na malayo sa gulo at intriga," says Sarah. "It's their choice [to link me to this or that guy]. It's not mine po. Every gentleman has his own qualities which can be admired by anyone, and I'm no exception to this. As to the crush issue, let's leave it to the guys to be gentlemen."
It's all part of being in showbiz. "Tanggap ko na po na ganyan talaga ang showbiz, may positive at may negative side. Sanay na po ako diyan. Alam ko naman noon pa na dapat handa akong mawalan ng privacy. Ganoon naman talaga, di po ba? Na kahit quiet ka, at hindi ka magsalita, hindi mo naman ma-co-control ang mga tao kapag may gusto silang malaman."
Of course, the bottom line is that Sarah has no issues with being admired, whether that admiration comes from men or from the public. Especially not when it comes to the public. She knows how vital fan support is to a career like hers. "It is heartening to hear that people admire you, even though I believe that I have a lot more to improve. Kaya po it makes me want to improve my craft and personality more," she says.
She just feels bad sometimes that she can't spend as much time with her fans as she'd like. "The fans are definitely part of my success," she says. "They have helped me get to where I am now, and I am sincerely thankful for that. Unfortunately, because of my hectic schedule, I only see them during mall shows and concerts. But I know that I should make it up to them and find time to be with them more frequently and that way, make them feel how important they are to me."
But yes, she does dream of falling in love and finding the perfect guy. In that respect, she's just like any other 20-year-old, although some might point out that at 20, Sarah is lagging behind a lot of her contemporaries. Even Rachelle Ann Go has already had a boyfriend in Christian Bautista, and is currently being linked to Gary Valenciano's son Gabriel.
That doesn't bother Sarah. She knows her time to fall in love will come eventually—and when she does make the announcement, it will surprise a lot of people. "Of course naman po," she giggles. "May secret crush nga po ako, di ba? But thinking of getting married and having children is far from my mind now. Basta ako, I'm just focused on work."

FULFILLING HER DREAMS
It's no secret that her success in showbiz has helped Sarah realize a lot of her dreams. But of all of them—and there are many—the sweetest by far is being able to build her family their very own home.
It's a dream that was three years in the making. Sarah tells us what it felt like. "The house took almost three years to build," enthuses Sarah. "My mother and father helped each other in designing the house. We are now putting the final touches sa interiors. Hopefully, this Christmas, it will be finished. Masarap po ang pakiramdam na mabigyan ng bagong bahay at lupa ang mga loved ones ko. I feel blessed and fulfilled. Thank you, Lord!"
She also dreams of being able to travel with them. She's been out of the country with them before, but those times have usually involved work. "I'd like to be able to travel the world with my loved ones," says Sarah.
She also has personal dreams. "Gusto ko pong makatapos ng kolehiyo at magkaroon ng pagkakataon na makilala ang aking kakayahan sa pag-awit sa ibang bansa."
She may fly high, but to this day, Sarah remains the same girl she's always been. If asked to describe Sarah Geronimo to someone who doesn't know her, she would say "a young lady who is very simple and sincere". In fact, she doesn't think of herself as the next Sharon Cuneta, the next Nora Aunor, the next Regine Velasquez—even if people repeatedly refer to her this way. "Lahat ng mga binanggit n'yo, mga icons na sila," says Sarah in an almost reverential tone. "Lahat po sila ay mga idols ko. Malayo pa po ako. Milya-milya pa. Siyempre po, nakaka-pressure, pero hindi ko pa iniisip 'yon."
All she can think about right now is her forthcoming concert. She's excited, because Johnny Manahan is directing it, with musical direction by Louie Ocampo. "Yung nerbyos po, as always, di naman maaalis 'yan," she says. "Pero ang mas nakaka-excite po dito is binigyan nila ako ng pagkakataon na talagang ma-involve sa production, pati sa pagpili ng kanta. Mas hands-on po ako dito. At saka may surprise akong hinanda. Sana magustuhan nila."
But even after the concert, Sarah still won't have the time to rest on her laurels. She starts shooting her next movie with John Lloyd first. After that, she flies to Monaco for a concert at the Prince Rainier Auditorium on November 22. In March and April next year, she is scheduled to leave for a series of shows in the US.
And she shows no signs of wanting to slow down. She hopes to do "more records, movies, TV shows and endorsements. Marami pa po akong plano at pangarap."
So when will she be able to say that she has reached her "pangarap na bituin"?
The answer is as simple as Sarah is. "Kapag nakita ko na masayang-masaya na ang mga mahal ko sa buhay," she says with a smile. What a truly special girl indeed.
Link here