Home
›
News and Events
›
News and Articles
Sarah has die-hard fans in the US
AshYeLLow
Popster
Journal.com.ph - 05Feb08
Sarah has die-hard fans in the US
People's Journal
Feb. 05, 2008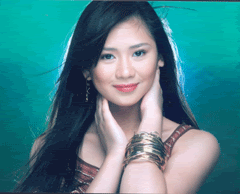 IT'S no exaggeration to say that Sarah Geronimo has die-hard fans in the US. During one of her SRO concerts in America, one Pinay who had earlier been rushed to hospital insisted that she be brought to watch Sarah perform. She got her wish, arriving at the concert in a wheelchair.

Then there was this professional photographer who presented Sarah with an album of pictures he shot during her last US concert. "The album was so beautiful," she says. "I wasn't aware he was taking my pictures. I was so thankful."

Pinoys abroad never tire of Sarah. She has played to packed audiences every time she flew over to entertain them. They follow her programs on The Filipino Channel. They can't get enough of her.
This March, her fans in the US and Canada will once again get the chance to see their idol perform live.
Sarah will be performing with the same barkada of singing champions that has been doing successful concert tours overseas.

Before she packs her bags and flies off, Sarah goes on stage with Rachelle Ann Go, Christian Bautista and Erik Santos at the Araneta Coliseum on February 13.
After that, you'll see a lot of Sarah when her print and TV commercials are launched.
The Araneta concert and US and Canada tour kick off a hectic year for Sarah. When she returns she'll dive straight into shooting a film to be co-produced by Viva Films and Star Cinema.
Viva Films' Big Boss Vic del Rosario is about to close the deal for the movie with Star Cinema.
The film has been put on hold several times because Sarah was tied up with her other projects.
Link here