Home
›
Albums
›
Sarah Geronimo - Exp<b></b>ressions
The Coming of Age of Sarah Geronimo (11Aug13)
The Coming of Age of Sarah Geronimo Sarah Geronimo has been tagged as the country's PopStar Princess, having reigned the pop charts since she was 15 years old. Posted

[font=Georgia, Geneva,]Aug 11, 2013

[/font] by [font=Georgia, Geneva,]WANDERGIRL[/font] [font=Georgia, Geneva,]
[/font]
Since then she has released a string of hits, starting with 'Forever's Not Enough'. But I was always bothered when she get's 'possessed' by her idol 'Celine Dion' whenever she sang. I guess at 15-16 she was still trying to find her own sound.
[media]
https://www.youtube.com/watch?feature=player_embedded&v=h1nzO8pW_n8[/media]
The networks and her management would always ask her to sing high-pitched songs, even as in the past years she has demonstrated that she can be more versatile — very much capable of singing (and dancing) and delivering a total performance. She has ventured into TV shows and movies — and given the right script can deliver a convincing performance in acting — demonstrating good timing for humor and enough sensibilities for light-hearted dramatic moments.
When they announced Sarah Geronimo as one of the coaches for The Voice of the Philippines, I had thought she was 'too young for the job'. I, like most people, have forgotten, that while she is a young girl she has been in the business for a decade. And lately, her pairing and song choices for the battle have clearly demonstrated her maturity as a music artist — even if she sometimes finds it hard to articulate her vision…
I have a confession to make– SARAH GERONIMO: EXPRESSIONS is the very first Sarah Geronimo album I've ever bought. That's because while I knew she could sing well, I wasn't so into the high-notes or the teeny-bopper songs she used to release. Plus lately, she's been churning out revivals. But when she launched her first single in ASAP last Sunday, she gave a performance that was hard to ignore:
[media]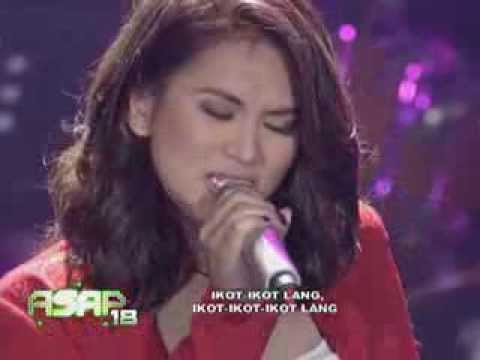 It's as if all those years of finding her own sound, of growing up, of refusing to be defined as a -birit girl – have now come to the fore. She still sounded good, but she performed with so much passion — i saw a little bit of Michael Jackson, a little bit of Beyonce — and all of Sarah Geronimo.
Expressions
[font=Georgia, Geneva,]
[/font]
01. Again
02. Pati Ang Pangarap Ko
03. Ikot-Ikot
04. Tayo
05. Maaari Ba
06. Eyes on Fire
07. Sweetest Mistake
08. Mama
09. You've Got a Friend (feat. duet with Daddy Delfin Geronimo)
10. Make Me Yours (composed by Sarah Geronimo)
11. It Takes a Man and a Woman
Don't expect to hear a lot screaming from Sarah in this album. The entire album has more of a laid-back, low-key vibe: nice to listen to on a lazy weekend or a good long drive. The entire track is easy listening, even with the occasional high notes. In fact, 'Ikot-ikot," the carrier single is probably the most vocally challenging of all the tracks.
I'm not sure how the long-time Sarah fans would react because the album sounds entirely new for Sarah. Even the lyrics have a matured a little bit — without trying so hard to be profound. There are still sweet love songs like "Again" and a nice ode to mothers in "Mama". There's a nice-folksy-sounding cover of "You've Got a Friend", which is a duet with her father, Delfin Geronimo. Then there's the familiar OPM-Pop sound in "Pati Pangarap Ko," "Maari Ba" and "Tayo".
The mix of song-writers also adds to the interesting blend of sound of this album. You get table love songs from the likes of Vehnee Saturno, more edgy beats from Thyro Alfaro, who wrote both "Ikot-Ikot" and "Tayo." Then there are the sweet tracks from Pow Chavez [who was one of my favorite contestants in Pinoy Idol]. Even Sarah penned a song entitled "Make me Yours", which she claims she wrote for God.
Sarah sounded so velvety-smooth in this entire album. Even for revivals "You've Got a Friend" and "It Takes a Man and a Woman". My favorite track is "Sweetest Mistake", penned by Franco Eumir L. Tantay, which is a heartbreaking love-song that sounded so sad, but not the angry-sounding sad. It's the kind of single that can be released internationally. Even the other song written by Tantay brought a whole new sound — Eyes on Fire — made Sarah sound so sexy.
The Popstar Princess has successfully reinvented her sound and even her look and sound without be too abrupt in the transition. You don't see her showing too much skin in the album photos, but you know she's not the 15 year-old singing contestant that you were rooting for. You are looking and listening to a full-grown woman who is ripe for the picking.
WE PERSONALLY LIKE HER NEW SOUND…
With this album, it was, as if, Sarah Geronimo was telling everybody — "you cannot ease me out just yet." It was pretty obvious her current network is building up a new 'popstar' who sings high-pitched songs. But with a new hit movie under her wings, her maturity in THE VOICE, and her newfound voice, Sarah Geronimo is cementing her place in the Philippine Entertainment industry — SARAH GERONIMO still got game and she as many more years ahead of her.
As for the album, it's a good buy. And we always need to incentivize local pop stars who continue to push the boundaries — for the development of OPM.
Sarah Geronimo: Expressions is available in itunes and all leading record bars.
http://www.philchart...sarah-geronimo/